The "All Material Locators" or AML Pro – PVC Pipe Detectors are scientific instruments that utilize modulated, ultra-high radio frequencies to find differences in subsurface densities. This offers the best method for locating PVC & PE pipes and nearly any other subsurface object that has an edge.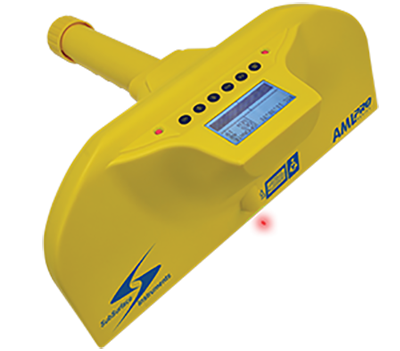 Utilizing technology that was developed for lunar exploration, the AML Pro – PVC Pipe Detector will locate subsurface materials indiscriminately – plastic, metal, wood, cable or pipe. Unlike the deficiencies of GPR (Ground Penetrating Radar), the AML will work in clay, wet soil, snow or even standing water. Redesigned specifically for the utility, water, gas and cable industries, the AML allows professionals to locate objects faster, while maximizing job efficiency.
• Lightweight Construction (2.5 lbs.)
• Durable ABS Housing
• Backlit Display
• GPS Plotting & Tracking
• 32 Sensitivity Settings
• Digital Leveling Meter
• Digital Targeting Indicator
• Noise Isolating Headphones
• Customizable User Preferences
Headphones/Headphone Jack
A convenient headphone jack allows the user to listen to audio signals with premium noise isolating headphones (included).
Strong, Durable Construction
The AML is constructed from lightweight, shock-resistant materials that make it easy to use and handle throughout the work day.
Laser Indicator
An easy-to-see laser indicator highlights the located object's position on the ground and it will get activated, only when it has been detected by the two sensors inside of the blade of the AML Pro.
Backlit LCD Display
A high contrast, backlit digital display provides superior visibility of all AML functions in both direct sunlight and dark environments.
USB Port
Powerful USB flexibility allows users to export GPS coordinates, import the latest firmware updates and connect to the auxiliary lithium battery source.
Easy User Interface
A very comprehensive user interface, allows you to navigate through all AML Pro features, for an easier and faster interaction that transforms in to an efficient use of the operator's time and capabilities of the Unit.
Ergonomic Handle
The AML PRO handle is designed to provide the user with a comfortable grip in any weather condition, ensuring an accurate reading when the fingers are placed along the knurls.
Carrying Case
The AML is a highly technical scientific instrument. To protect it, an impact resistant and waterproof carrying case with a shock-absorbent foam housing protects your AML while in transit or on the job site.